I picked up Scotch-Brite greener clean non-scratch scrub sponges at Vons. I needed sponges anyway, and I knew if it said green it would cost more (ugh) but I always think about what one of my art teachers said: Buy for design.
And these looked like milk chocolate cake, with a thin layer of fluffy chocolate icing on each sponge. (the scrub part)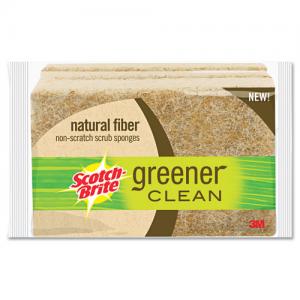 This picture is Scotch-Brite greener clean  natural fiber sponges (no caps because they're just that cool), but what I really bought was the scrub sponges. However, the picture that 3M put up of those makes it look like the sponges have something unpleasant inside, gah, tendrils of something dark, and that's not what mine look like.
Mine are very pure milk chocolate.
I haven't tried them yet, but am looking forward to that.