Wow, this must have been a disaster in store sales…but it tastes so good! I first saw Lucerne Chocolate Whipping Cream (Limited Edition) in Pavillions right after Thanksgiving. (Lucerne is the dairy supplier for Vons and Pavilions.) What a festive idea! What a chocolate delight! I bought 2 pints. When I returned to the store a week or so later, there were only 2 pints left, and they were discounted! So I bought them, too. And that was it, I never saw it again!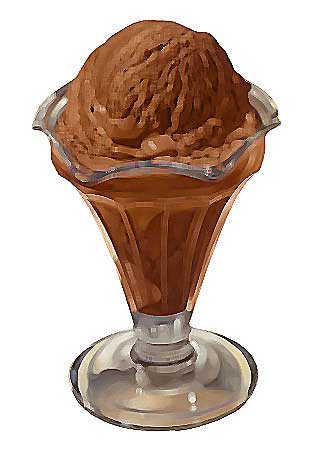 I go to that store regularly, so I don't think I missed it earlier. And it does say Limited Edition, but for sale only a month? And it's not like chocolate goes out of season. 🙂
In any case, it is thicker than regular cream and a little bit…gooey. Very slightly like thin pudding. Not the best texture. But I liked the flavor a lot, especially on ice cream flavors that had too much vanilla in them.
It also came in a pretty carton, half chocolate brown, and half an illustration of cream pie w/chocolate whipped cream on top. (Looking at it more closely, the illustration of the circle of dark brown whipped cream looks suspiciously like what one might see taking an evening stroll, after someone with a large dog had not picked up after his dog. Oh dear, that is unfortunate, which proves the importance of good design and illustration. But it also has nice snowflakes, too, darn it!
The carton is gone, so here's some ice cream for you.
Still, I don't care who else bought it  — what a fun idea for whipping cream!