In a more affluent year than 2009 my brother and sister in law gave me chocolates from fran's, located in Seattle. (They live in Seattle, too.)
I had heard of fran's years ago (but what's with the lowercase name? In elegant wedding-announcement type script, yet?)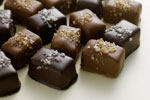 There were only 6 chocolates in the box. I ate them all, and forced myself to limit it to one a day, to savor them.
But here's that name thing again:  Gray and Smoked Salt Caramels. Hmm.  I know salted candy, chocolate covered pretzels, etc,  have been hot for a few years. Salt and sugar is always a rush.
But why would you call something that's a deep rich brown, "gray"? I don't want to eat anything that's gray. What food is gray? And the smoked in the title is reminiscent of smoked salmon. Do you think it's the Seattle/harbor/fish thing up there that has distorted their thinking? Here, have a gray, smoked caramel. Ugh. So this is a bad name for a really great candy!
It was a delicious and distinctive candy. I thought the grays were best. Wish I could remember why, but they disappeared too quickly…
It looks like it was available on Amazon at one point – Fran's Chocolates Smoked Salt Milk Caramel Gift Box – 20 Pieces, but not now. 8chocolate.com has a longer review about this candy, and says the Obamas ate this candy on the campaign trail! I'm a political cartoonist, however, and let's just say…maybe. In any case, definitely try these.